Testimonials
Our goal at the Pediatric Subacute is to address the unique needs of our young patients and help them achieve their maximum potential. It is a labor of love.
Here are some of their stories.
Farewell Party for Yester!
Diana
---
Charly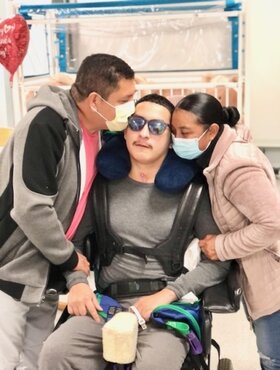 After six months spent at the Pediatric Subacute Unit, C is ready to be discharged to a rehabilitation program to focus on his recovery. "From the time our son came to the hospital after a fall that caused a head injury, we always relied in our faith," said mom. "I prayed day and night for his recuperation," she continued. "The support and care all the nurses gave to our son, helped us through this stressful situation". C's parents were encouraged by the signs he kept on showing as weeks and months went by. First, by recognizing mom and dad and later when he was able to communicate to tell them he was feeling well and the nurses were taking good care of him. "Our son had a special person, a night nurse named Jackie" said mom. "He drew pictures for her... He even asked us to buy a gift for her birthday." The bond between nurses and patients is evident at the unit, the staff becomes family to the children and the dedication and loving care they pour on their young patients are always present. The family is very grateful for the care C received. "Everybody was so good to him; the nurses, doctors, therapists, social worker, all of them were great" said dad. "We are now ready to move forward and help our son gain a full recovery."
---
Sabastian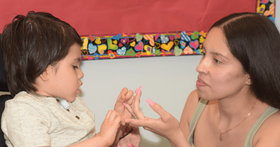 S. came to Whittier Hospital in 2019. "Since then he has made significant progress and has overcome many challenges, thanks to the dedication and care he receives from the nurses, doctors and therapists." said mom. "I love the parties for the kids, especially during Halloween and Christmas as well as the outdoor areas. I am very grateful to the staff for everything they have done for my son!"
---
Gesture of Gratitude
T. came to visit Whittier Hospital Medical Center, accompanied by his mom and stepfather. He wanted to show how grateful he is to be alive thanks to the exceptional and dedicated care he received at Whittier Hospital Pediatric Subacute Unit. T., now 18, was born with his esophagus detached from his stomach, which also caused lung and heart issues. Doctors diagnosed the baby's condition, and he stayed at the facility in Long Beach for about three months, before being transferred to Whittier Hospital Pediatric Subacute Center. He stayed at Whittier for two years. Nurses who cared for T. while he was a patient at the Unit, looked on after they greeted the young man and his family. It's great to see him so healthy, said nurse B., who along with nurses G. and J., cared for T. B. called the support of the family strong and loving.
T. handed out toys, including building blocks, remote control cars, electronic games and dolls for the kids at the Unit. T., who endured several surgeries during his extended hospital stay, said he was glad to visit the young patients.